Sky Removals is the leading moving company in the London Borough of Merton. We founded our firm several years ago and today we are regarded as a benchmark for quality and flawless execution. We have gained our positive reputation by working hard and always planning the relocations for which we are hired to the last detail. It is also because of our immaculate work methods that to date we have managed to maintain a 0% accident ratio. We specialise in both commercial and domestic removals in Merton, CR, so rest assured that we can lend you a hand with your upcoming move regardless of its type, magnitude, complexity and timetable.
Call us and we will conduct your entire household relocation in Merton, KT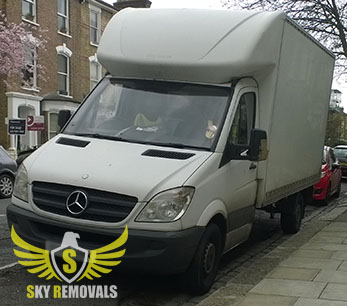 We have become the moving contractors to call when it comes to residential removals in Merton, SM, due to the fact that we have the expertise and technical capacity to quickly, efficiently and meticulously relocate any type of household to, from or across the borough. We have tailored our moving services to be child-friendly because we are parents and we understand in full all the negative effects that a relocation can have on children. Even more, we can assist you into finding reliable, affordable and high quality babysitting services if your kids are too small to be present during moving day. Don't worry about the content of your home because our packers will prepare it for the loading and transportation stages of your move. We work only with the best packing supplies and protective gears.
Our prices are the fairest in the borough
We are the preferred Merton removal contractors of the local business owners because of our punctuality and diligence. We have the necessary assets to safely haul even the most expensive and delicate office equipment and production machinery. We are also one of the few moving companies in the area that work after hours, which means that our commercial customers can conduct their business affairs during the day and go through their relocation during the night. We provide our business removals in Merton at cost effective prices which can easily suit even the tightest of budgets. We define our service fees by using a specialised moving cost calculator that allows us to take into account the unique parameters of each relocation for which we are hired. We have chosen this pricing technique because:
It makes us accessible man and van contractors that everybody can afford to hire
It permits us to maintain an unrivaled quality/price ratio
It shows us a client-friendly company that emphasises on the needs of its customers
Don't hesitant to contact Sky Removals if you are having storage problems as we provide top notch and affordable storage solutions. We have a modern facility which is one 24 hours a day, seven days a week. Down below we have posted a table with the different storage cells that we offer to our clients.
| | | |
| --- | --- | --- |
| Unit type | Size in feet | Variations |
| Small | 5×10 | Portable, on-site, indoor and outdoor |
| Medium | 10×10 | Portable, on-site, indoor and outdoor |
| Large | 10×20 | On-site, indoor and outdoor |
| Giant | 20×20 | On-site, outdoor |
All our units are equipped with the finest environmental systems which protect the stored items from the diverse natural elements. They are also fitted with high sensor breach systems which will immediately alert our experienced security staff in the case of an unwanted event. You can learn more about our storage services in Merton, KT, by getting in touch with us via telephone or e-mail. Our customer consultants will happily provide you all the information that you seek, answer to all your questions and help you book one or several of our cells. Please note that we require seven day (14 days for Giant units) notice before you empty and vacant your cell.
We can move you anywhere within the UK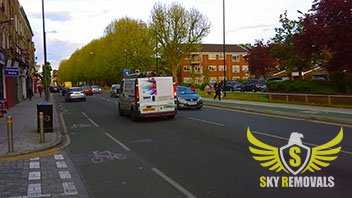 The last thing that we want to share with you about our Merton man and van services is that we maintain nationwide coverage, which means that we can aid you relocate to or from any point of the county. Also don't be shy to contact us if you are looking for single-items removals because we are known to provide the finest in the borough. Learn more about the remainder of our services by exploring our company website in full.
As you have already understood we operated mostly throughout the London Borough of Merton, SM. The area lies in the southern parts of the English capital and is 14.52 square miles big. It has a population of approximately 205.000 people and a density rate of 14.000 people per square mile. The borough is comprised of 17 districts including the world famous area of Wimbledon which hosts the annual eponymous Grand Slam tennis tournament.
The Baitul Futuh Mosque is probably the most noted structure within the Borough of Merton, SW. It was built during the early 21st century and is credited to be the largest mosque in Western Europe. It has two minarets, the tallest of which has a height of 35 metres while the other is only 25.5 metres tall. The edifice's dome has an outer height of 23 metres and an outer diameter of 16 metres. The building has a capacity of 10.000 people and prayer halls that can contain 4.500 people at the same time. According to the latest number the mosque is one of Merton's most visited places of interest.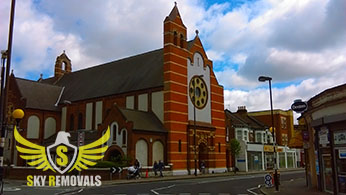 The Mitcham Library is another well-known landmark in Merton. As its name suggest it lies in the district of Mitcham. It was constructed during the early 1930s on a land which was donated to the local authorities by builder Joseph Owen, who also sponsored some stages of the construction project. Many consider the library to be the most important in the borough. The Morden Hall Park is an open space in Merton, CR, and the location of the noted Morden Hall which dates back to the late 18th century. Throughout the years the mansion has changed its ownership on several occasions and during the events of World War II was used as a military hospital.