If you don't have the necessary time or resources to properly handle your end of tenancy cleaning, keep calm and give us a call. We are certified sanitation contractors and we can easily clean even the most soiled and tarnished properties. We got into the sanitation business several years ago and today we are the reputed as the company to contact when it comes to property sanitation projects.
We will match all your cleaning requirements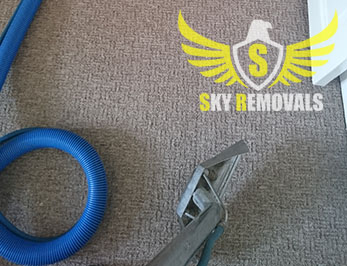 We have put together a crew of seasoned and qualified sanitation technicians because we believe that our clients deserve nothing less than impeccable London moving out cleaning services. By opting to work with us you will ensure the full recovery of your security deposit as we will clean your former rental unit meticulously. Please bear in mind that to date we have never failed to meet the demands of our customers, so rest assured that the job will be handled in full accordance with your expectations and personal preferences.
We from Sky Removals have invested heavily into the best cleaning machines because we want to gain access to every corner and clean it immaculately. With the aid of our tools we are able to penetrate deep into the different property features and remove all the dirt, dust and bacteria that have found a safe haven. We can also without problems clean even the muckiest carpets without damaging the fibres or causing discolorations. It is like this because our sanitation equipment has soft brushes that protect the fibres from bending or breaking.
The cleaning products that we use are 100% eco-friendly and don't contain any toxic or chemical ingredients. We work with green sanitation detergents because:
They don't leave harmful particles behind
They are highly efficient
They allow us to provide to our clients a clean indoor environment
With the aid of our cleaning solutions we are able to easily remove all types of stains from:
Carpets and rugs
Curtains and drapes
Stone and wooden surfaces
Floors
Furniture including leather upholstery
Bed linens and fabric features
We work with a flexible calendar which always had free slots for new moving out cleaning projects. We also have the ability to accept last minute booking, so don't be timid to contact us on a short notice as we will find a way to include you in our agenda and provide you the assistance that you seek. If you are a business owner, bear in mind that we can handle your sanitation job after work hours as we conduct late night operations.
We from Sky Removals are eager to work with you, so stop wondering whether you should hire us and simply pick up your telephone and give us a call.
Our company is dealing with removals for London clients and covers the entire English capital. The city is home to some of the finest entertainment venues on Earth such as the Lyceum Theatre which was opened in 1834. The building that houses the venue was designed by Samuel Beazley and is considered to be one of the most beautiful in London.