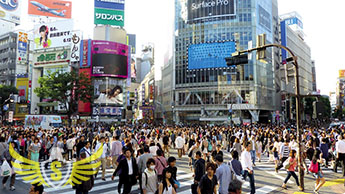 Recycling is an integral part of our life and we contribute to it on a daily basis. It can be a well thought of, voluntary act to recycle and use recyclables or even a routine of doing something, without even noticing that it is actually eco-friendly – like not only grocery shopping but also going to work with that extravagant canvas bag because it is all so fashionable. Like everything else, recycling practices differ largely from place to place, depending on culture, knowledge, social status and/or governmental support.
So, when you move abroad you should probably take the time in advance and learn how waste is handled in the specific country in order to avoid any fine or unnecessary expenses. Japan, being known as a home to very disciplined people, is definitely a place you should research properly before moving to.
Most probably you will not be surprised that Japan is one of the leading countries when it comes to recycling. This is due mainly to two factors –the government policy concerning trash and garbage and Japanese mentality.
Government-supported recycling in Japan
There are laws regulating methods of disposal of different types of waste both for the citizens and the business. For example:
The Waste Management and Public Cleansing Law of 1970 defines disposal methods of certain wastes emitted by factories and businesses, such as sludge, waste oil, plastic, etc.
The Law for the Promotion of Sorted Collection and Recycling of Containers and Packaging, which has been enforced since April 1997 by the Ministry of the Environment. Its aim is set in its title and that is to reduce the waste of PET bottles, glass containers, and paper cartons. It was amended in April 2000 to further include plastic containers and packages.
Initially, garbage was simply divided into two categories – burnable or non-burnable. Recently, there are about 12 different types of trash to distinguish between. This sounds a bit complicated, but Japan has tried to facilitate both its citizens and foreign guests by providing rules and explanations. And you can find them not only on the colourful bins for collecting recyclable waste but also on a poster, available in most cities, and in several languages – English included.
Japan's recycle awareness campaign is not only at a national level but stretches out internationally as well. In 2004 at a G8 summit, Japan proposed the "3R Initiative" – that is to reduce, reuse and recycle waste. The initiative was approved by the G8 nations and in 2008 at the G8 Environmental Minister Meeting in Kobe, the Kobe 3R Action plan was agreed upon.
The right type of mentality
Japan is successful in recycling not only because of its governmental policies in the field but because of the unique mentality only Japanese possess. They have a special expression that is often used in the context of trash, garbage or recycling – mottainai.  It is a term that expresses a sense of regret regarding waste. Its meaning is "Don't waste!" or "What a waste!" and it refers to both physical garbage and spiritual traits. Mottainai is also used in the sense of someone getting more than they deserve. It is one of the many Japanese expressions that cannot be easily translated into another language, primarily due to the differences in the perception of the world that we have, but a good English equivalent will be the saying "Waste not, want not".
Now the existence of the so called "trash lady" will be no surprise for you. This is a person who makes sure everybody follows the rules and divides its trash accordingly. If you fail to comply you receive a red sticker on your trash bag, so all can see you did wrong, and it is not lifted by the trash collection company.
All that said you can be sure that any business related to collecting trash, garbage removal service, manufacturing of recyclables, or even using containers and packages, or actually any business as a whole is green. Green in the sense of having employees who are consciously doing their job and actively protecting the environment, not only because law abides them to but because their heart and mind dictates them to do so.